About us
The Australian Institute of Grants Management (AIGM) is the best practice network for Australian grantmakers - it's where grantmakers come for help.
The AIGM helps grantmakers review and improve their grants programs, as well as keep abreast of best practices both within Australia and internationally.
The AIGM is an enterprise of Our Community, a world-leading and multi-award-winning social enterprise and Certified B Corporation that serves as Australia's Centre for Excellence for the nation's 600,000 not-for-profits and schools, providing advice, tools, resources and training.
You can read more about the AIGM's grantmaking values here.
Our evolution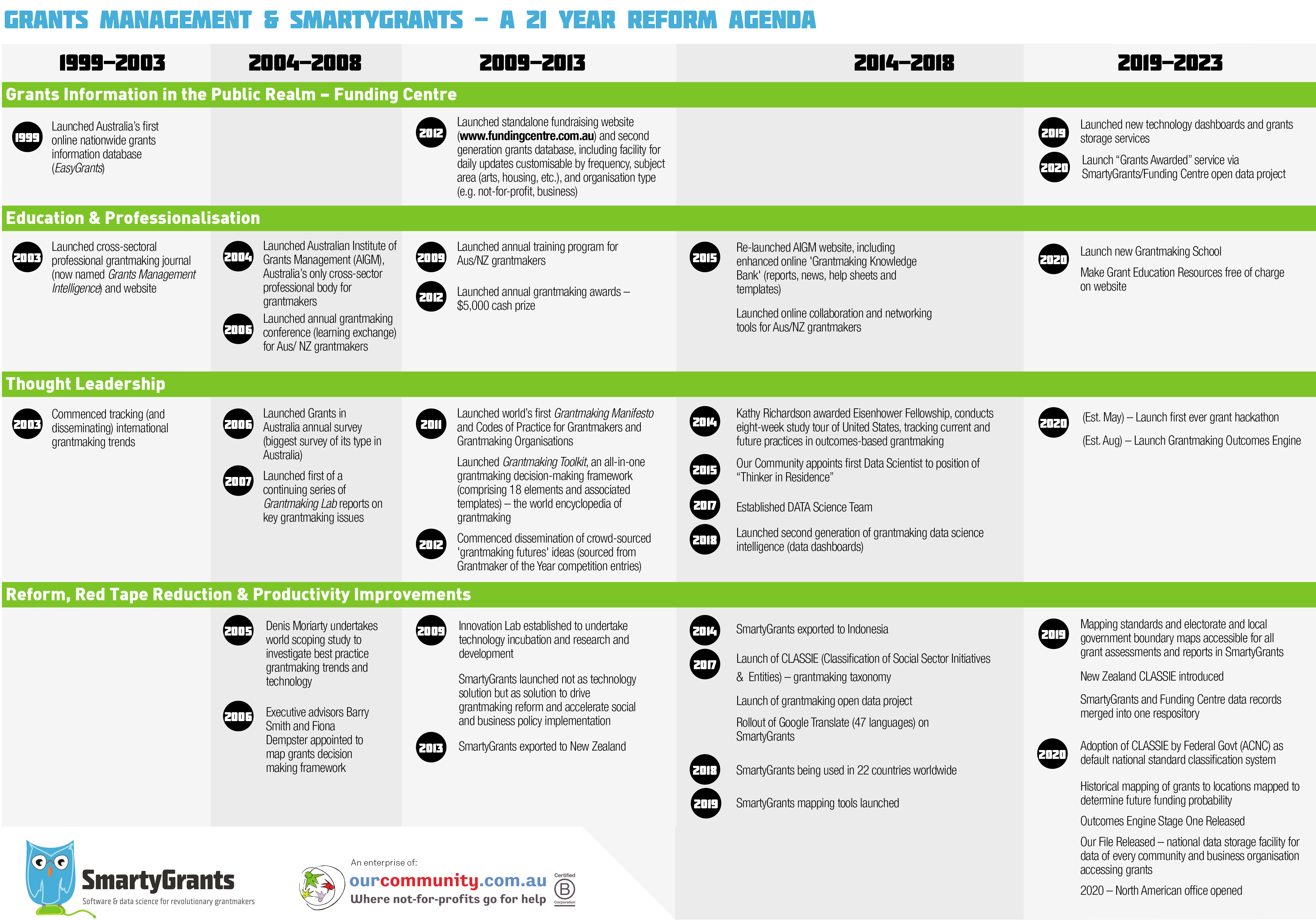 Through Our Community's many years of work with grantseekers, we have heard a lot about what grantmakers were doing wrong. We called it "Grants Rage".
The Australian Institute of Grants Management (AIGM) was launched in 2003 with a plan to help reform Australia's $30 billion grant-giving business, and thereby help alleviate some of the "Grants Rage".
Also - importantly - we wanted to ensure that the tens of billions of dollars given away in grants each year could deliver more impact for Australia.
We have been joined along the way by a number of fellow revolutionaries, notably Fiona Dempster and Barry Smith from the N-Carta Group, who developed many of the tools and resources available through the AIGM's website.
The AIGM has become the best practice network for government, philanthropic, corporate and community grantmakers.
Key initiatives include:
Benchmarking and surveying initiatives
Development and dissemination of grantmaking best practices
A regular membership newsletter and other communications activities
A Grantmaker of the Year Award, an annual conference, and a range of peer-exchange events.
The AIGM's reform agenda is supported and enhanced by SmartyGrants, the Institute's own cloud-based software solution that allows grantmakers to manage the grantmaking process from application to acquittal and beyond. SmartyGrants is now Australia's most-used grantmaking system, and has been exported to both New Zealand and Indonesia.
The AIGM's key offerings
Australia's only cross-sector grantmakers' membership service;
Capacity-building website;
Our regular grants management publication - Grants Management Intelligence - which covers the latest across the world of grantmaking
Annual Grantmaking in Australia Conference
Annual Grants in Australia survey - crowd-sourced field & sector-based assessments
Grantmaking Policy Bank & standard/template forms
Grantmaker of the Year Awards
Thought leadership: Grantmaking Manifesto; Grantmaking Codes of Practice; Grantmaking Labs
The home of SmartyGrants - Australia's most used grants system (and exported to New Zealand and Indonesia)
About SmartyGrants
SmartyGrants is Australia's most used grants management system and is being used in New Zealand and Indonesia.
Launched in November 2009, SmartyGrants is not just a tech solution - it's a grantmaking solution, shaped by grantmakers, and built just for grantmakers. Best practice in grantmaking is embedded in the system, helping to drive the Our Community Group's reform agenda.
Five key facts about SmartyGrants:
It's Australia's most-used grants management system.
SmartyGrants has been used to manage more 7000 grants programs across the country, from the smallest local government outfit to mid-sized philanthropic and corporate foundations, to the very biggest state and federal government funders. It's also now being used overseas.
It's much more than a tech solution.
It's been developed alongside (and by) grantmakers. We embed best practice in the system. SmartyGrants users join a community of grantmakers who share their their methods, forms and solutions.
It's delivering numbers.
We have begun to use the masses of data generated by SmartyGrants to create benchmarks and drive other innovations.
It's delivering results.
Grantmakers are eliminating paper use, improving their audit trail, and understanding more about their grants.
It will never go out of date.
We are constantly improving and upgrading SmartyGrants to take advantage of what's new and actually useful. By inviting users to resubscribe each year we're building in an incentive for us to keep innovating.
The Innovation Lab
The Australian Institute of Grants Management's Innovation Lab is where we seed ideas to do old things better or new things first.
Current projects include:
SmartyGrants - research and development
SmartyFile - Australia's central repository of information related to not-for-profits and grantmakers, containing grantmaker profiles and granting information, as well as a bank of public and private information about and for not-for-profits (central location storage enables multi-use)
Grants Data Schema - common grants classification and reporting schema
GrantSafe - due diligence certificate to allow grantmakers to check not-for-profit organisation bona fides
Centre for What Works - sharing grantmaker and not-for-profit lessons, and thereby enabling transparency of ideas, transference of knowledge and avoidance of duplication
Contact Us
Phone: (03) 9320 6888
E-mail: service@grantsmanagement.com.au
National Headquarters:
Our Community House
552 Victoria Street
North Melbourne, Victoria, 3051
Australia