Grants Management Intelligence:
The AIGM's best practice publication - a membership benefit
Already an Australian Insititute of Grants Management member? Tap here to see the latest Grants Management Intelligence (GMI) newsletter.
The Grants Management Intelligence (GMI) newsletter was launched in late 2002 as an Australian-first: a unique, home-grown publication designed to radically improve the efficiency and effectiveness of Australian grantmakers and funders.
The publication began its life as The Australian Best Practice Grantmaking Quarterly but was rebranded and relaunched in December 2006 as Grants Management Quarterly (GMQ).
After almost eight years as GMQ, the publication underwent a make-over late in 2014 in line with the overhaul of the AIGM's website.
In addition to being renamed Grants Management Intelligence, the publication also changed its structure in order to focus on a single topical grantmaking issue in each edition.
What you're missing: A taste of our March edition on quick response grants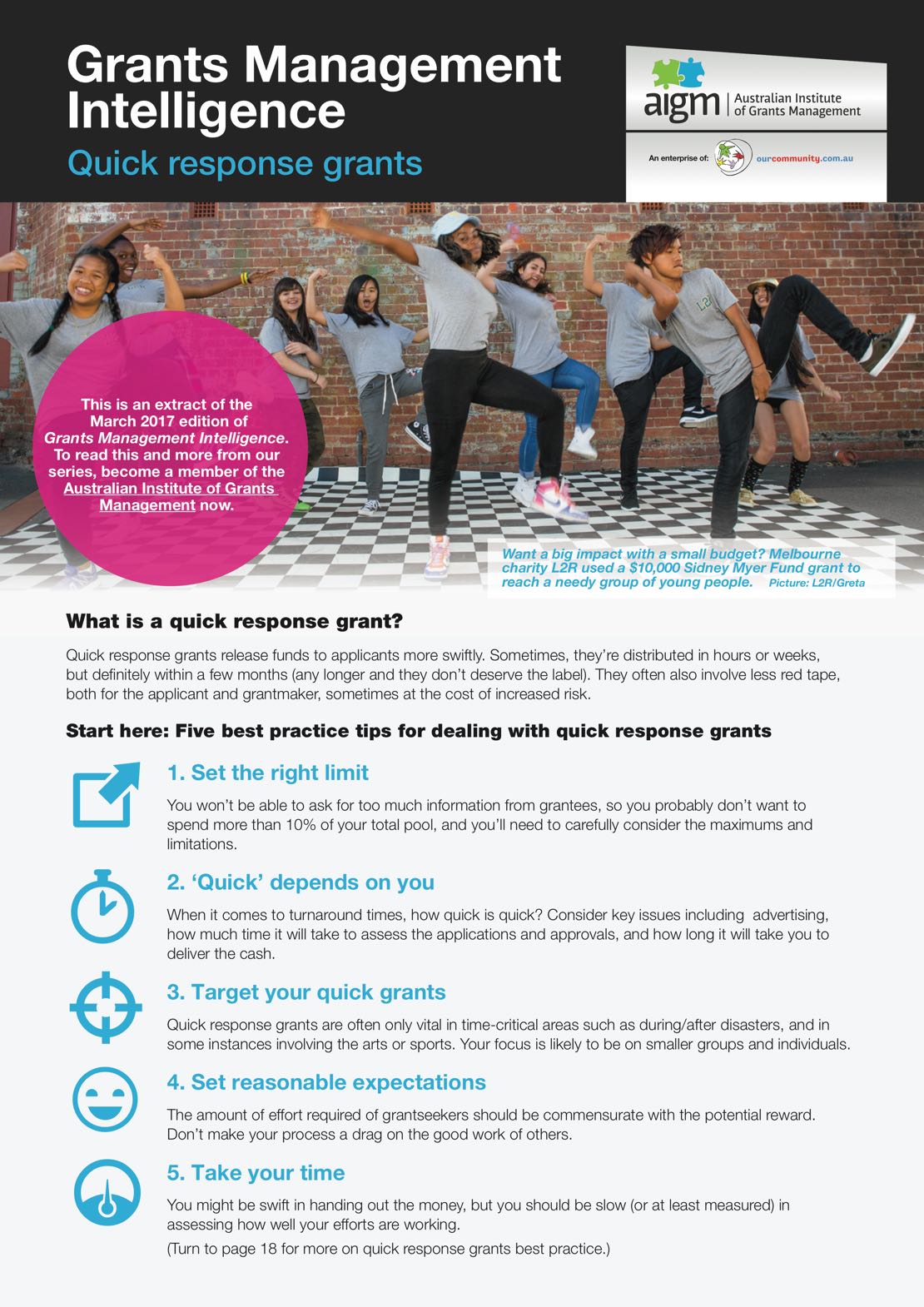 GMI provides grantmakers with invaluable, unique insights
Since 2014, GMI has provided in-depth examinations of grantmaking-related issues, offering information, advice, best practice guidance and perspectives which draw on knowledge built up over the AIGM's 10+ years of existence, backed up by data drawn from our own sources as well as from SmartyGrants, Australia's leading grants management solution.
The AIGM's exclusive access to millions of pieces of SmartyGrants data has allowed GMI and the AIGM to develop benchmarks in a number of grantmaking areas in which there has previously been a lack of solid data. And through GMI, AIGM members have had a first access to this vital, groundbreaking benchmarking data.
Past issues of GMI have provided benchmarking information in areas as varied as:
Grants round closing times and trends - including our conclusions on the best days and times to close your grants round.
Grants assessment panels - including benchmarking data on assessment panel size, gender make-up, time taken on assessments and an examination of panel assessments vs single assessor processes.
Unsubmitted grants applications - including data on the levels of unsubmitted vs submitted applications, as well as our tips and best practice recommendations on how to cut down the level of unsubmitted applications to your grants program.
GMI has also tackled relevant grantmaking topics, with past issues providing in-depth examinations of:
Preventative grantmaking
Participatory grantmaking, including collective giving and giving circles
The findings of the 2015 Grants In Australia Survey - the biggest survey of grantseeker attitudes and behaviours in Australia.
Data and the impact it is having - and may continue to have - on the field.
GMI extracts the lesson that are relevant to you, with practical tips and step-by-step suggestions that show you how to incorporate these lessons into your own grants program - making best practice standard practice.
Importantly, GMI crosses sector borders, appealing equally to:
Federal Government policymakers, grantmakers and funders
State Government policymakers, grantmakers and funders
Local Government grantmakers, community development workers and councillors involved in grantmaking programs
Philanthropic foundations and trusts - staff and board members
Private companies that distribute funds through grants and other funding programs
Financial and legal advisors to government and philanthropic grantmakers.
Backed by the AIGM's leading news coverage, GMI will keep you updated on important issues and vital information from across the sector.
With Australia's leading grants management publication, you can find out what is working in Australia and internationally, why it works, and how your program can benefit.
GMI is just one of the many membership benefits for Australian Institute of Grants Management members. Sign up here.
---
Past editions of Grants Management Intelligence
An extended summary of past editions of GMI can be viewed via the link below.
The summary includes detailed rundowns of contents from each edition of GMI dating back to 2014.
Click here to view the summaries.
Already an Australian Insititute of Grants Management member? Tap here to see the latest Grants Management Intelligence (GMI) newsletter.
Sample Grants Management Intelligence
Click here to download a sample edition of GMI.
---
For editorial inquiries, please contact Matthew Schulz on (03) 9320 6828 or email
matthews@ourcommunity.com.au
.