One of the biggest challenges facing any grantmaking organisation is knowing when to cease a grant program, particularly if it's popular, or when to redirect funds towards a different issue, changing the focus of the grants.
In this piece from the Foundation for Rural and Regional Renewal (FRRR) Program Manager Natalie Egleton (pictured above, middle, with representatives of Yea Community House which was funded through the FRRR's GR&W program) reflects on the strategies that FRRR has used to adapt its programs.
---
Fundraising in small communities is hard - especially when you overlay natural disasters like floods, fires or drought. Sustainable revenue sources are few, so grant funding is usually part of their planning. Grant funds can be the difference between a community surviving and thriving, or fading away.
Despite the challenges, most community groups are incredibly resourceful and a small act of generosity can kick-start their project or fill the shortfall after local fundraising options are exhausted.
FRRR is a grant-maker focused exclusively on not-for-profit groups operating in rural, regional and remote Australia. In the fifteen years since our formation, we have distributed more than $60 million dollars to communities across the country. Most funds have been given to small groups via small grants - averaging around $3,000, although we have also made grants of up to $125,000.
We work collaboratively with trusts, foundations, corporations and government to raise funds and direct philanthropic support to some of the most isolated places in Australia. And the need is great. We can usually fund only about a third of the applications that come our way. Far more are worthy of support.
When it comes to making changes to our grant programs, it is a balancing act: on one hand, we are known for being responsive to the changing needs of rural and regional communities.
One advantage of dealing with so many groups each year is that we get visibility of emerging issues, so we are well-placed to change tack, and heed the requests of those we are supporting. On the other, we are an important source of funds for many groups, so changing is hard...
But first, why might a grant program need to change, or cease? It could be because of a change in community need and shift in priorities; or a change in the funding landscape. Perhaps a gap is filled or a new player enters; or there could be policy changes which either alleviate or put pressure on small communities.
How do you know when you need to adjust?
Stay informed and monitor the issues
We prioritise spending time in the communities we support or talking to community representatives. It's critical to hear what's actually happening first-hand, and the difference - or not - that your support is making. More importantly, it lets us learn about other needs that may not be being met. Sometimes even just the smallest comment or aside will reveal a valuable insight.
It's important to speak to others working in the community- not just those seeking funds. Groups that are not directly involved may see opportunities and gaps that groups on the ground have yet to identify. It is particularly important to stay in touch with donor partners. They also spend time on the ground and by sharing insights, we have been able to adjust our programs, to better respond to need, and to respond to issues that donors want to address.
For example, we reviewed the education programs we've funded over the years. We reviewed what was granted, surveyed recipients and talked to other funders working in the area about gaps. As a result, we extended the program to include more focus on supporting educators, and not just students, as that was a clear need.
Be data driven
'Gut feel' is valuable, but being able to back it up or validate it with qualitative and quantitative data is critical. An underlying principle is that our operations are evidence-based, which determines program design and priorities. We rely on a range of data sources, for example, third-party research; community plans and consultation; and trends in grant program applications and impacts. The latter involves a lot of data mining.
We classify what groups are seeking funds for; how much they are seeking; the level of co-funding (either in cash or in kind); even the population size. Analysing all of this helps us build up a picture of what's happening and to assess whether there are any gaps.
We aim to review two programs each year - one a deep review, and one a lighter touch - to ensure that they align with community need, and reflect the needs and priorities of our donor partners.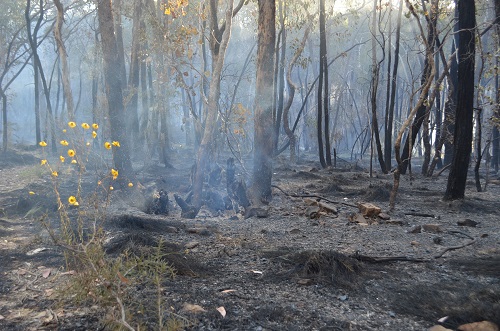 While the 2009 Victorian bushfires have long since past, communities still need support to recover. (Picture: FRRR)
Over the years, this information has led to the creation of new programs, for example, in reviewing the requests to our flagship small grants program, we identified a significant number of applications for culture, arts, tourism and community heritage projects, so we created the CATCH program.
In another example, after a program review, we put more emphasis on children and young people, mental health issues and community identity in determining funding via the Grants for Resilience and Wellness (GR&W), a program that supports the recovery of communities affected by the 2009 Victorian bushfires.
This change was made in response to several factors:
Observation of trends in the grant program over the last six rounds being highly focused on youth and children, health and wellbeing and disaster preparedness;
The initial findings of the Beyond Bushfires study, which highlighted the particular vulnerability of children and young people and the need for community-based activities that strengthen social capital and community resilience; and
A preference to orient the grants towards outcomes rather than activities to support stronger alignment of projects to community recovery.
Over the last year or so, we noticed three consistent themes in applications from fire-affected communities: helping young people to stay in school or enter employment; operational sustainability of community organisations; and building capacity within the Community Foundations established since the bushfires. So we responded, and collaborated with donors to create new programs to address these three areas.
Test your thinking and build a coalition of support for the change
It took a lot of consultation before we launched those new programs. While we had the data, we needed to 'sense check' it, which we did by talking to lots of groups on the ground, working with the affected communities and stakeholders, and talking to our donor partner.
They all validated our insights, and so we held in depth discussions with our donor partner - in this case the Victorian Bushfire Appeal Fund - about the needs we had seen, and how best to support those groups.
But it only went so smoothly because we had a clear rationale for change and we made the case for change and we communicated with them as we explored the issues and the possible approaches.
Be clear about what you do and who you help
Sometimes the research you undertake will unearth clear gaps that aren't being met - but they won't always be the issues that you are best placed to solve. At FRRR, although we do a lot of things, we are really clear about our role: we are focused on building strong, vibrant and sustainable rural, regional and remote communities.
We believe there is value in short-term interventions, but we also seek to build longer-term partnerships - with donors, communities and stakeholders. In addition, we seek to invest in both solutions that solve the underlying issues, as well as projects that alleviate the symptoms. However, we don't fund sport, for example, nor do we fund initiatives that should be the responsibility of governments.
So we are really clear about what is in scope and what's not. This clarity helps us make decisions about our programs.
Communicate any changes clearly
As the Victorian Bushfire Appeal Fund example attests, communication is critical to the way program changes are received.
It's even more important when you are changing guidelines and either excluding a group that was previously eligible, or no longer funding a particular issue or activity. In this situation, the key is to be transparent and to explain not only what is happening, but why. It may be that you haven't been able to find a funding partner - as is unfortunately sometimes the case for some of FRRR's programs.
This year in our CATCH and CARA programs we are only funding in some states, due to a lack of donor partners. So we have communicated that clearly, explaining both where we can offer grants, but also why we can't do so in other places. This principle of transparency is important to the successful transition.
Finally, if you are making changes to a program, have a clear transition plan. If you have funded the same organisations for a long time, even though you might not have a long-term funding agreement, they may well rely on, or at least expect, and budgeted on your support.
One of our donors - the Sidney Myer Fund - went through a review of their funding focus areas. After 10 years as our core partner for the Back to School program, they decided to wind down and conclude their support.
As the backbone funder of the program, it would have created an enormous gap had they simply stopped supporting the program. However, they gave us four years' notice that they would reduce and conclude their support.
This early advice, and the transition plan we put in place together - which included a reducing scale of matched-funding - meant that we were able to plan for the change and secure other funders to continue the program.
Change is the only constant in life - including in philanthropy. The key is how you manage it.