Grantseekers are applying for smaller numbers of grants, and have called on funders for greater support through both multi-year grants and grants covering core operational costs, according to the latest research from the Australian Institute of Grants Management (AIGM).
The figures are contained in the latest AIGM Grants in Australia Survey Report, released today.
The survey is Australia's biggest study of grantseeker behaviour and attitudes, with more almost 1350 people responding to the 2015 survey. It provides grantmakers with an invaluable insight into what grantseekers think they are doing well, and not so well.
The survey found that more than 61% of grantseekers applied for five grants or fewer during 2015. The finding continues a trend from recent surveys - the 2013-14 survey found that 54% of grantseekers applied for between one and five grants in the preceding 12 months. In 2012, that figure was 45%. (See chart)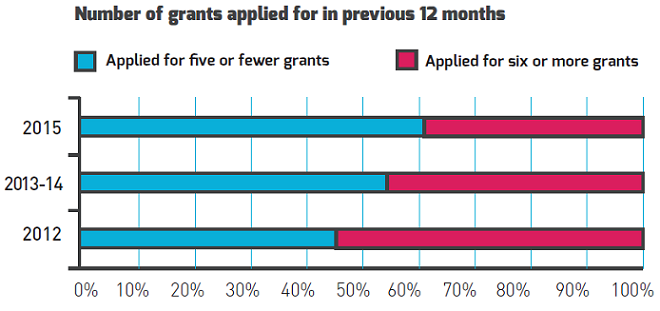 And while many grantseekers also told us they had maintained (42%) or marginally increased (41%) the number of grants they had applied for in the past 12 months, it appears that most are working from a very low base, or are only new to the grantseeking process.
In addition, many grantseekers told us that the two prime factors stopping them from applying for more grants were a lack of resources/staff (63.9%) or a lack of time (55.8%).
"These findings, and anecdotal evidence the AIGM has gathered, indicate that new grantseekers start out applying for a smaller number of grants before quickly realising they don't have the capability to expand that number too far," the report states.
"So they maintain (or slightly increase) the number of grants they apply for, becoming more selective and targeted in their application methods in the hope of experiencing greater levels of success."
Concerns over multi-year funding, grants towards "core costs"
Grantseekers have also used the 2015 Grants in Australia Survey to express concerns over what they see as a a fall in grants which cover groups' core operational costs, and in multi-year grants.
Nearly 42% felt there were fewer grants available for core operating costs than 12 months ago, compared to just 4.6% who felt there had been an increase.
Meanwhile almost 30% said there had been a fall in multi-year grants on offer over the past 12 months; only 6% thought more were on offer.
Grantseekers have long felt funders need to improve in this area. More than 60% of respondents to our 2012 survey said funders didn't provide sufficient support for core or operating costs, while 77% of 2012 survey respondents agreed that funders should provide more financial support for core costs.
"A lack of multi-year funding, combined with a lack of grants towards core operational costs, can stifle groups' attempts at medium or long-term planning and can force them to take a shorter-term, hand-to-mouth approach," the 2015 report states.
"If grantmakers are serious about working in partnership with grantseekers and truly taking account of their wisdom, they'll act to arrest this concerning trend."
Grantmaker feedback on unsuccessful applications must improve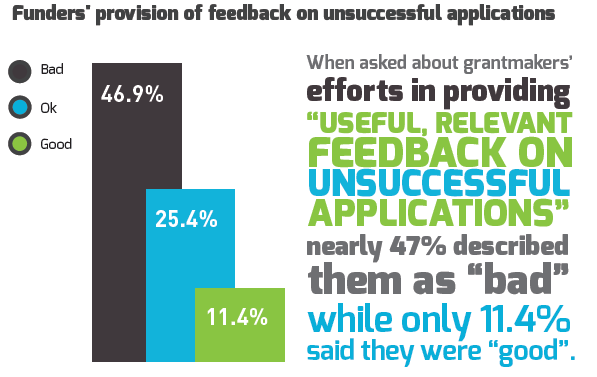 Almost half (46%) of grantseekers who responded to the 2015 Survey described grantmakers efforts at providing "useful, relevant" feedback on unsuccessful applications as "bad". Only 11% said these efforts were "good". (See chart)
In addition, when funders ask grantseekers for feedback on how to improve their efforts, a significant portion of grantseekers (around 40%) felt funders "never" or "rarely" took note of that feedback.
The overall issue of feedback has long been a sore point for grants applicants, with multiple Grants in Australia Surveys dating back to 2006 finding it to be a concern.
And this is a pity given the 2015 Survey found grantseekers were overwhelmingly positive in their opinions of the help and support grantmakers offered.
Of those who had sought help from a funder in completing their grant application in the past 12 months, nearly 90% described the experience as "generally satisfactory". Meanwhile, 90% of grantseekers felt that funders were "sometimes" or "always" approachable and accessible.
Other findings
Other findings from the 2015 Survey included:
Grantseekers love pre-application briefings or grant information sessions.
Online applications are the norm, and the vast majority of grantseekers prefer them - though they note some issues with completing online applications.
Around 75% of grantseekers told the 2015 survey that some level of government - local, State or Federal - was the primary source of their grants funding.
AIGM members can view the 2015 report, as well as our entire archive of Grants In Australia Survey Reports, at the AIGM website (login required).