Grantmaking in Australia
Conference 2019

Thursday, August 8
RACV Club, Bourke St, Melbourne

Grantmaker Tribal
Gatherings

Friday, August 9
RACV Club, Bourke St, Melbourne

Optimising SmartyGrants

Friday, August 9
RACV Club, Bourke St, Melbourne
Register now for THE conference for grantmakers
This year's Grantmaking in Australia Conference tackles grantmakers' desires for a better understanding of data and evaluation.
We'll share the full program with you, as soon as it's back from the designers, but with the EOFY rapidly approaching, we've ensured registrations are open NOW for an event you won't want to miss. Here are some highlights.
ANDREW CALLAGHAN, Australian Social Value Bank

A leading impact specialist on why grantmakers have the power

Dr SQUIRREL MAIN, The Ian Potter Foundation

An evaluation expert weighs the cost of not funding evaluation

DR ROBYN MILDON, Centre for Evidence and Implementation

Using data-fuelled evaluation to inform strategy and drive results

JODI KENNEDY, Charitable Trusts & Philanthropy, Equity Trustees

An organisation's shift into outcomes-oriented grantmaking

JOCELYN BIGNOLD, CEO, McAuley Community Services for Women

CAMERON McLEOD, Community Engagement, North Melbourne Football Club

KAREN SAIT, Executive Officer, Port Phillip Community Group

A panel session grappling with evaluation at the coalface
As well as the main conference on Thursday, August 8, the two-day event features Friday sessions bringing together state and federal, and local government experts in the unmissable Grantmaker Tribal Gatherings, and an essential session about Optimising SmartyGrants.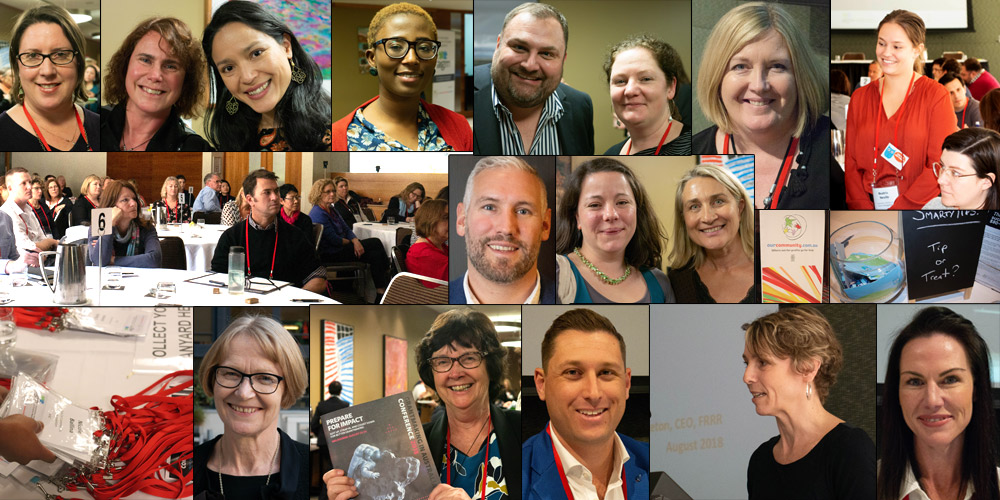 About the conference
Change is coming, and it doesn't have an 'abort' button. If you haven't yet started thinking about the impact of your grants, it's time to consider your launch options. Whether it's a minister, a taxpayer, a director, a donor, a councillor or a ratepayer, someone sooner or later is going to be knocking at your door asking the question and expecting a clear answer: "What value did we create from our grants?"
Of course, there's no simple answer. And there are big risks for those who stumble in blindly. Blunt metrics and dumb systems are easier to implement, but they lead to misleading answers, and that can be worse than having no answers at all.
But the costs of not acting are greater still. The 2019 Grantmaking in Australia Conference will connect you with the people who have stared down the challenges and pushed ahead, and give you the confidence you need to take one small step for your organisation, towards one giant leap for humankind.
VIDEO: Conference MC Fiona Dempster sums up the highlights of the event.
Be the first to learn more about the conference
Create your own user feedback survey
Explore last year's program
Who should attend
The conference is designed for grant providers who are involved in delivering a local, state or federal government grants program, or a philanthropic/corporate/community grants program.
Prospective SmartyGrants users may also derive some value from the conference, which will reach well beyond the walls of technical usage and move into the world of good practice grantmaking.
The tribal gathering sessions are targeted specifically to local, state and federal government grantmakers (whether SmartyGrants users or not).
Our SmartyGrants focus session caters for SmartyGrants users.
What past conference attendees say...
"I have found this conference very inspiring. I want to thank you for an amazing learning experience, where I gained heaps of tools I will now apply in my grantmaking process."
"I had three people attend your recent Grantmaking conference in Melbourne and they all came back with a glowing report and said they got a lot out of it. It is nice to see the sessions you set up are hitting the mark."
"Thank you so much for the opportunity to be exposed to a wide variety of grantmaking material/information. It was a great day. I was especially impressed with the range of participants this event attracted. Not to mention the speakers."
"May I say that I enjoyed the grantmaking conference last week enormously and picked up a few very useful tips!"
"Fantastic, this conference has provided a 'light bulb' of so many ideas."
"Great conference - really enjoyed it. Well thought-out, diverse guest speakers."
"A very good conference, a lot of energy, passion and great ideas. Very well organised, great food."
"Thoroughly enjoyed the conference. Thank you. Very informative and enjoyable. Lots of relevant information, inspiration and ideas. Good venue also."
"Thanks for the great atmosphere."
"The conference was exceptionally well run, the feel was genuine and dynamic. The venue was exceptional."
"What was the most enjoyable was the speakers not being politically correct, polite or subtle. The humour and challenges were refreshing."
"Energy great and sends us all off with ideas and positive hope of achievement."
"Practical, down to earth conference. Interesting, great networking. Keep it coming."
"Probably the best conference in any sector I've been to ever. Professional, practical, interactive, good venue and well catered."