Grants Management Intelligence
Insights for grantmakers from the AIGM
Grants Management Intelligence is Australia's first and best, home-grown publication, aimed at improving the efficiency and effectiveness of Australian grantmakers and funders. Join us now for the best grants intelligence available.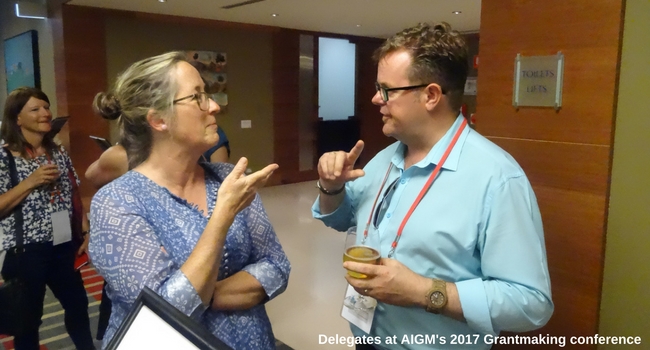 GMI provides in-depth examinations of grantmaking issues, with information, advice, guidance and perspectives drawing on knowledge from the AIGM's 10+ years of existence, and backed by data several sources including SmartyGrants, Australia's leading grants management solution.
The AIGM's exclusive access SmartyGrants data has allowed GMI and the AIGM to develop new benchmarks. And through GMI, members have first access to the knowledge.
Past issues of GMI have covered:
Grants round closing times and trends - including best days and times to close
Grants assessment panels - with data on assessment panel size, gender make-up, time taken and processes
Unsubmitted grants applications - including data on submissions and best practice recommendations
Preventative grantmaking
Participatory grantmaking, including collective giving and giving circles
Results from our annual Grants In Australia Survey - analysing grantseeker attitudes and behaviours across the nation

Big

data and how you can use it properly
GMI extracts those lessons, with a focus on with practical suggestions about incorporating these lessons into your own grants program - making best practice, standard practice.
GMI is must-read material for:
Federal Government policymakers, grantmakers and funders
State Government policymakers, grantmakers and funders
Local Government grantmakers, community development workers and councillors
Philanthropic foundations and trusts
Private companies distributing funds
Financial and legal advisors
Backed by AIGM's news coverage, GMI will keep you in front of the information flood.
GMI is just one of the many membership benefits for Australian Institute of Grants Management members. Sign up here.
---
A taste of recent editions
November 2017: Community reports with clout
Prove it. That's the challenge that runs through every grant program.
When it comes to reporting, you as a grantmaker must prove that you have allocated money well, you must prove it has been properly spent, and you must decide where you'll spend money in future. It's a tough business, but community foundations - 36 locally based philanthropic groups distributing $21 million in grants each year in Australia - have shown us all a way forward. That way is called Vital Signs, and is a special focus for this edition.
Also in this issue:
Powerful information:
Inside the Vital Signs framework - what's different and who can use it?
Global effect:
What impact has Vital Signs had in Fremantle, Melbourne, New Zealand and Canada?
Artificial intelligence:
The disruption of distribution
Crunch time:
Why local government is getting into grants data
The politics of change:
Managing the vertigo of a post-Trump world
Technology solutions:
Equip your grant recipients to help you measure impact
---
August 2017 edition: Lessons from the Grants in Australia 2017 research study.
In this issue of Grants Management Intelligence, we examine the results of our Grants in Australia 2017 study.
As you may know, the size of Australia's grants industry is astonishing.
At last count, government grants to the country's 50,794 registered charities were worth $55.7 billion, up by $13.7 billlion on the year before. (Source: Australian Charities Report 2015). That doesn't include billions more in other government grants to not-for-profits that aren't charities, or funds distributed by corporate, philanthropic or private funds.
That's a massive movement of money. And we know you want to ensure that every grant dollar you allocate has the maximum benefit. We're here to help, and that's why this "survey says" edition brings you:
Exclusive research: With all the key findings from our grants research study
Grant experts' analysis: Feedback, deadlines, data and other lessons for funders
Local government impact: Will councils soon be paying more?
Grants as risky business: Why philanthropy points to the future
Think small: How to help groups grow with grants
Special report: What grantseekers really think about your program
---
Exclusive research: June 2017 edition reveals what grantmakers must do now
Ahead of the Grants in Australia 2017 survey of nearly 1300 grantseekers across the nation, and in a sneak preview for AIGM members, we distilled the top ten actions grantmakers should take now, and included them in this edition.
The recommendations we've included aren't easy fixes, but all point to significant grantmaking resources on the AIGM site. Appropriately, other topics in this edition further explore issues raised in that "to do" list. Each extend the "hot spot" discussions at our Grantmaking in Australia conference in March. And, of course, draw on the expertise of leading grantmakers. Topics in this edition cover:
Feedback: How the Army has turned defeat into victory
Final reports: How to think outside the box
Grant survey findings: Details about what actions you can take right now
Incomplete applications: What you can do to get them over the line
Core funding: The Community Broadcasting Foundation's solution
Data: How you can use our CLASSIE system
Multi-year funding: Consultant Kate Caldecott takes a closer look
Pre-application briefings: How to make the most of them
---
Act fast: March 2017 edition features quick response grants
Hot on the heels of the Australian Institute of Grants Management (AIGM)'s Grantmaking in Australia Conference, this edition has latest thinking on quick response grants, a tool increasingly used by funders wanting a quick impact with minimum fuss.
We've spoken to several grantmakers with wildly different goals, yet all aiming to use swifter payments to improve the results of their grants practice.
Among examples we've included are:
Regional Arts Australia, which is using quick turnaround techniques to send performers from the desert to the coast to play to sell-out crowds (among many other things);
the Queensland Government's online disaster response portal, which works to distribute emergency cash to victims, within as little as six hours;
the Moonee Valley Council's small grants program, which helps young athletes, small groups and others to thrive; and,
the Sidney Myer Fund, whose cash injection to a suburban breakdancing troupe L2R (pictured) helped both organisations reach out to a diverse and disadvantaged community.
We've also thought carefully about the risks and rewards of using quick response grants with the help of our thinker-in-residence Chris Borthwick.
More editions: Still not sure? Click here for more detail about our past editions.
About our previous editions