Grants Management Intelligence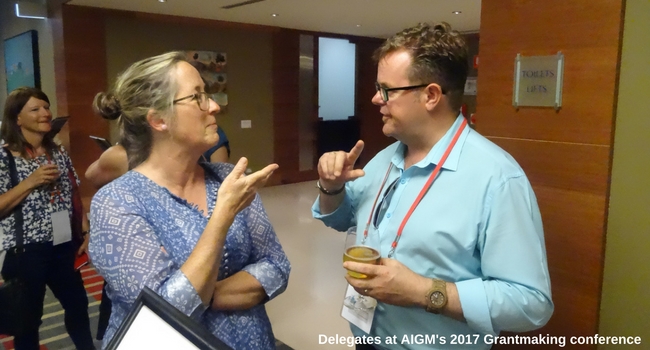 Insights for grantmakers
Grants Management Intelligence is aimed at boosting the efficiency and effectiveness of grantmakers and funders, with a focus on Australian trends.
The publication features in-depth studies of grantmaking issues from our own experts and research; other leaders in the field; and employing our exclusive access to SmartyGrants data, It is focused on practical ways to improve your grants program and help you make best practice, standard practice.
From the basics to expert-level commentary, we've covered:
Social and impact measurement
Analysis of our annual Grants In Australia Survey
Best practice data use
Grants round closing times and trends - including best days and times to close
Grants assessment panels - covering size, gender, deadlines and processes
Unsubmitted grants applications - including data on submissions and best practice recommendations
Preventative and Participatory grantmaking
This makes Grants Management Intelligence a must-read publication for federal, state and local grantmakers, funders and policymakers; local councillors and community development workers; philanthropic and corporate funders; and financial and legal advisors.
The quarterly publication is just one of the benefits of membership of the Australian Institute of Grants Management. Learn more and sign up here.
---
A taste of the latest edition
---
More recent editions (tap to enlarge)
---
More about recent editions
December 2018: Cracking the code
Evaluation that kills, the best social measurement pratitioners in the country, the failure of evidence-based policy making and a future currency for measuring good works. They're all covered in the December issue.
---
November 2018: The future of grantmaking
What are all the innovations in our sector? We survey the scene for what's happening at the AIGM, SmartyGrants and the Innovation Lab; relive highlights from the Grantmaking in Australia Conference and go inside the mind of a grantwriter.
---
August 2018: The secrets of grants success
Any grantmaker will tell you that they'd love to know more about their grantseekers, who is winning, and why. We've summarised the key findings of our Grants in Australia research, and spoken to great thinkers including digital governance pioneer Lucy Bernholz and high-trust grantmaking leader Genevieve Timmons in this edition.
---
April 2018: Inside the evaluation edition
Knowing whether your grantmaking really works matters to everyone: the funders, the recipients, the beneficiaries, the authorities, and your supporters. That's where evaluation comes in. While our last Grants in Australia survey reveals 60% of large not-for-profits say grantmakers are demanding increased outcomes measurement, reporting and evaluation, only 12% are winning funding for the purpose. Clearly, the grantmaking sector must respond.
---
November 2017: Community reports with clout
Prove it. That's the challenge that runs through every grant program.
When it comes to reporting, you as a grantmaker must prove that you have allocated money well, you must prove it has been properly spent, and you must decide where you'll spend money in future. It's a tough business, but community foundations - 36 locally based philanthropic groups distributing $21 million in grants each year in Australia - have shown us all a way forward. That way is called Vital Signs, and is a special focus for this edition.
---
August 2017 edition: Lessons from the Grants in Australia 2017 research study.
As you know, the size of Australia's grants industry is astonishing. And we want to ensure that every grant dollar you allocate has the maximum benefit. We're here to help, and that's why this "survey says" edition brings you exclusive research, analysis, information about the impact on councils, and how to work with smaller groups.
---
June 2017 edition: What grantmakers must do now
We distill the top ten actions grantmakers should take now. The recommendations we've included aren't easy fixes, but all point to significant grantmaking resources on the AIGM site. Appropriately, other topics in this edition further explore issues raised in that "to do" list. Each extend the "hot spot" discussions at our Grantmaking in Australia conference.
---
March 2017: Act fast with quick response grants
Hot on the heels of the Australian Institute of Grants Management (AIGM)'s Grantmaking in Australia Conference, this edition has latest thinking on quick response grants, a tool increasingly used by funders wanting a quick impact with minimum fuss. We've spoken to several grantmakers with wildly different goals, yet all aiming to use swifter payments to improve the results of their grants practice.
---
Still not sure? Click here for more detail about our past editions.
About our previous editions