Grants Management Intelligence provides an in-depth examination of grantmaking-related issues, offering information, advice, best practice guidance and perspectives which draw on knowledge built up over the AIGM's 10+ years of existence, backed up by data drawn from our own sources as well as from SmartyGrants, Australia's leading grants management solution.
Below are summaries of back issues of GMI dating back to late 2014. AIGM members receive full access to our catalogue of GMI back issues, as well as having the latest editions of the publication delivered direct to their inboxes four or five times a year.
Already an Australian Insititute of Grants Management member? Tap here to see all our past Grants Management Intelligence (GMI) newsletters.
What you're missing: A taste of our March edition on quick response grants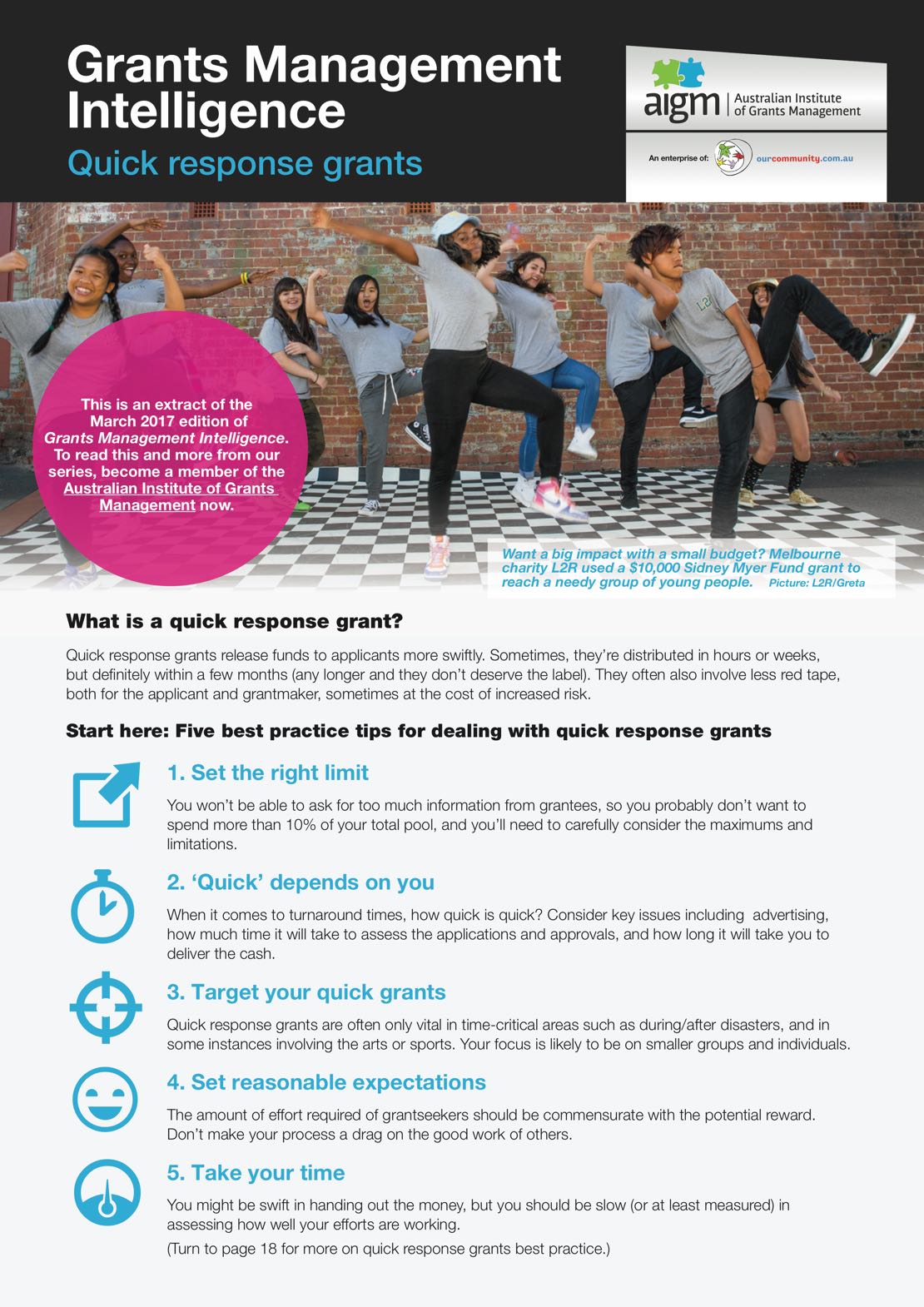 To join as an AIGM member and receive all the latest from GMI, follow this link.
---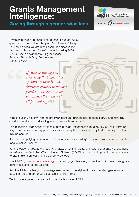 The November 2016 edition of Grants Management Intelligence saw us work with the Australian Women Donors Network (AWDN) to provide practical advice to grantmakers on working in a gender-wise way.
In recent years, the drive among philanthropists and grantmakers to meaningfully and mindfully consider gender when allocating funding has gathered speed.
The increasing awareness that men and women are affected and impacted by issues in different ways - and that different approaches to addressing these issues are required - has helped drive this momentum.
Funders are applying the concept of "gender-wise grantmaking" to ensure their grantmaking is the most effective it can be.
The AWDN (www.womendonors.org.au) is driving gender-wise grantmaking in Australia through its gender lens and gender-wise tools.
In this edition:
We hear from AWDN chair Deanne Weir, as well as Sex Discrimination Commissioner Kate Jenkins and Australian of the Year David Morrison about why gender-wise grantmaking is vital.
Catherine Brown (Lord Mayor's Charitable Foundation), Caitriona Fay (Perpetual) and Jocelyn Bignold (McAuley Community Services for Women) share their experiences with gender-wise grantmaking.
We learn more about how the AIGM's online grants management system, SmartyGrants, is embedding gender-wise questions as standard practice across its online forms.
---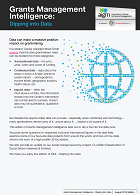 The August 2016 edition of Grants Management Intelligence saw us dip our toe into data.
Data has the potential to make a massive impact on grantmaking. It can unlock opportunities for great perspective and insight, as well as meaningful impact measurement and outcome assessment.
But despite the opportunities data can provide - especially when its use is combined with technology - many grantmakers remain wary of it, unsure about it ... maybe a bit scared of it.
This edition of GMI included:
Interviews with US data expert Andrew Means, as well as Australia's Simon Faivel (SIMNA, Social Ventures Australia).
A look at how data informs the work of the US' Robin Hood Foundation.
A major update on our social change taxonomy project, CLASSIE (Classification of Social Sector Initiatives & Entities).
A rundown of some noteworthy data-related projects from Australian and overseas.
Some words of wisdom from Our Community's own data scientist, Joost van der Linden.
---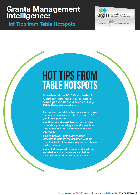 The May 2016 edition of Grants Management Intelligence extracted the wisdom from the 10 Table Hotspot sessions at the 2016 Grantmaking in Australia Conference in Melbourne in March.
The sessions saw delegates gather with fellow funders to discuss and reflect on one of 10 grantmaking topics.
The Hotspots allowed like-minded funders to tackle a grantmaking issue, discuss how they've faced it and share techniques to address it.
Among the topics discussed were:
Feedback
Grant process timelines
Problems with applications
Funding operational costs
Inserting good governance into highly political processes
Improving grant program accessibility
There's some great practical wisdom here. The AIGM thanks all those who shared their knowledge and experiences and helped make the Table Hotspots a big success.

---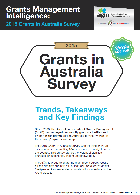 The February 2016 edition of Grants Management Intelligence detailed the key findings of the 2015 Grants in Australia Survey.
The findings are drawn from the opinions of almost 1350 grantseekers and grants applicants from right across Australia who responded to the Grants in Australia Survey late in 2015. The survey is the biggest of its kind in Australia.
The findings included:
Lack of feedback from grantmakers to applicants remains a problem, with almost half the survey's respondents unimpressed with grantmakers' "efforts to provide useful relevant feedback on unsuccessful applications".
Grants funding for multi-year grants, and towards core operating costs, have fallen in the past 12 months - a finding seemingly in contrast to overseas trends.
Significant numbers of grantseekers describe as unacceptable funders' efforts on communicating application results, or the time elapsed between them lodging their application and receiving notification of a decision.
Online grants applications are now the norm, with more than 90% of grantseekers saying online submissions were the most common application format they had encountered during the past year.
Grantseekers love pre-application briefing sessions, while more than 90% feel the clarity of grants program guidelines is "OK" or "good".
Grantmakers are pretty good at providing help, with almost 90% of applicants ho had sought assistance when completing an application in the past 12 months describing the quality of the experience as "satisfactory".
---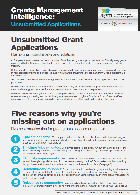 The December 2015 edition of GMI looks at the issue of unsubmitted grants applications.
It draws on expert insights from both grantmakers and the AIGM itself, as well as analysing more than six years of SmartyGrants data, to compile some useful tips, guidance and benchmarks on the topic.
The tips included:
Where to start when looking at your unsubmitted application levels.
An extensive range of expert tips, ideas and "questions you should ask yourselves" to address the issue.
We have also crunched the numbers and come up with some benchmarks drawn from SmartyGrants data against which you can compare your efforts.

---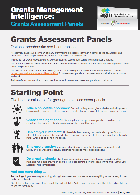 In the September 2015 edition of GMI we look at Grants Assessment Panels, and we endeavour to provide context and clarity around some aspects and use of assessment panels.
We've chatted with a number of experts, as well as crunched all manner of SmartyGrants data, to come up with this edition of GMI.
It contains:
A look at the options for assessment panel structure as well as the benefits and drawbacks of each assessment panel option, as expressed by grantmakers themselves.
Groundbreaking benchmarking based around SmartyGrants data which examines at what best practice assessment panels and assessors actually look like. This includes:

Panel size and make-up.
The gender split on grants panel assessors.
Time taken on assessments.
The ratio of panel assessments to single assessor processes.
Plenty of useful hints, tips and thoughts on assessment panels from our experts here at GMI.
---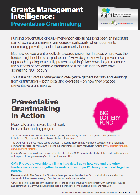 The June 2015 edition of GMI - Perspectives on Preventative Grantmaking - features insights from grantmakers - both locally and from overseas - on how they practice "preventative grantmaking".
Funding preventative or early-intervention efforts has long been an important part of some grantmakers' armouries - particularly when it comes to addressing prevailing societal or community issues.
Getting to the source of the problem - unravelling the ball of yarn to find the end - and then funding ways to address it in order to prevent the issue getting worse, or to stop it in its tracks, can be hugely effective.
But it can also pose challenges to funders.
Many grantmakers would acknowledge they are not subject experts in the areas they seek to contribute early-intervention funding - if so, how do grant effectively?
As a grantmaker, are they comfortable to let another organisation "take their money, but take the lead as well"?
And of course, a couple of perennial questions - How do you know if a preventative approach is going to actually prevent anything, and how do you measure the success of preventative grantmaking if the aim is to try and have something NOT occur?
Our guide - Perspectives on Preventative Grantmaking - features insights from the UK's Big Lottery Fund, as well as our own Ian Potter Foundation and Give Where You Live Community Foundation, who have been kind enough to share their experiences, learnings and tips gleaned from experience in the field.
We hope what they have to say will help guide you in your own preventative grantmaking efforts, or perhaps convince you to consider some early-intervention grantmaking of your own.

---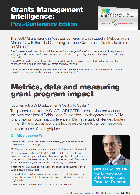 The 2015 AIGM Grantmaking in Australia Conference was staged in Melbourne on March 23, with the Tribal Gathering for Local Government Grantmakers held on March 24. And we've distilled the knowledge, tips and ideas from the conference into the April 2015 edition of GMI.
The Conference itself was built around the theme of "Knowledge is Power", with presenters exploring the many ways grantmakers can benefit - and can improve their efforts - by turning data and information into real, useful, knowledge.
Presenters included:
Michael Weinstein - Chief program officer of the Robin Hood Foundation, New York, USA.
Kate Frykberg - chair of Philanthropy New Zealand and executive director of the Todd Foundation.
Julie Reilly - CEO, Australian Women Donors Network.
Anthea Hancocks - CEO, Scanlon Foundation.
Susy Jones and Marguerite Davie - Office of Communities Project.
The 2014 AIGM Grantmaker of the Year, Carley Commens, as well as the announcement of the 2015 award winners - Cynthia Scherer and Lesley Lightfoot from the Geelong-based Give Where You Live.
The AIGM wishes to thank all those who presented during the Conference and Tribal Gathering, as well as attendees who joined us from across Australia and New Zealand.

---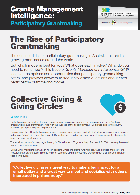 Our guide - The Rise of Participatory Grantmaking - featured in the February 2015 edition of GMI, examines the many and varied options for funders considering this inclusive, participatory grantmaking.
It provides you with guidance, tips and information on each style of participatory grantmaking as well as the benefits and obstacles each style presents, who it suits and some great examples of other grantmakers already employing them successfully in their own work.
It covers a range of grantmaking vehicles:
The rapidly rising method of collective giving and giving circles.
Advisory councils.
Community and stakeholder consultation.
Live grantmaking.
Contests.
Online (and other) voting.
Corporate grantmaking (with input from staff).
Crowdfunding.
Crowdsourcing.
---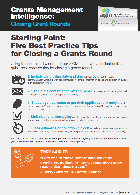 The November 2014 edition of GMI draws together AIGM's best practice tips for closing a grants round, including our advice on the best times toclose a round, how you can keep applicants in the loop and a very useful policy on late applications.
Have you thought about when and how you close your grants round? Our Grants Round Closing Time Toolkit contains a mix of facts, stats, resources and other reading, as well as some major research from the AIGM looking at both sides of the "closing grants rounds equation":
When grantmakers close their rounds - both day and time.
Grantseekers' habits when it comes to submitting applications.
Our suggested best practice benchmarks for closing a grants round.
Our Grants Round Closing Time Toolkit contains:
Our major AIGM research feature
Top tips on closing a grants round
Ideas and best practice guidance on late application acceptance policies
Tips on things you should AFTER closing your grants round
Confirmation email ideas
Great ideas: a grant round "timeline"