Local government grantmakers converged on an inner-city bar in Melbourne recently to learn how Our Community's Innovation Lab is generating new insights in data.
While the food and drinks were great at Campari House, it was the prospect of serious data crunching that had grantmakers buzzing with possibilities after the Victorian Local Government Grantmaker Muster hosted by the Australian Institute of Grants Management.
In particular, the prospect of being able to share and benchmark grantmaking performance against other councils saw peoples' ears prick up, as Innovation Lab Director of Data Intelligence, Sarah Barker, spelt out the rollout of CLASSIE and new data features onto the SmartyGrants platform.
Fourteen organisations were represented, but it was grantmakers from amongst the 49 Victorian councils already using SmartyGrants who were most enthusiastic.
Ms Barker explained how organisations can leverage their information to increase impact and reduce waste, by showing how they can use the SmartyGrants dashboard and CLASSIE, the classification system for social sector initiatives and entities.
Mrs Barker showed how councils (and other grantmakers) can use the dashboard to see:
Application indicators such as approval rates and submission rates
What is being funded (CLASSIE "subjects")
Who the recipients are (CLASSIE "populations")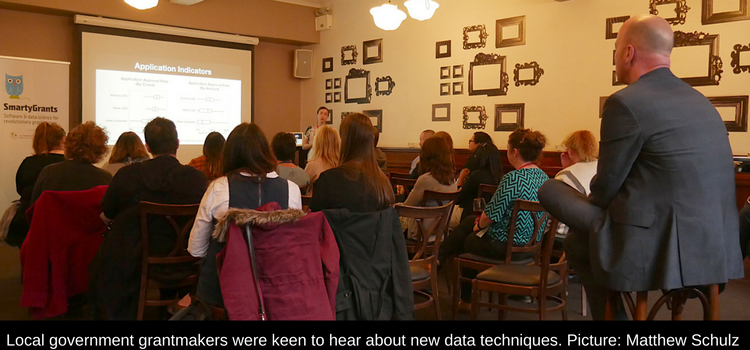 SmartyGrants is developing capabilities to display live benchmarks. At the muster, Ms Barker presented graphs of key interest and demographic groups, the relative spending in different program areas, and grant approval and submission rates, to demonstrate how benchmarks might be used.
"You might have a submission rate of 77%. Is that good or bad? It can be useful to know how you compare to other grantmakers," Ms Barker said.
Lower submission rates, for instance, could demonstrate there were issues with guidelines, forms, or timelines.
Mapping functions being developed would allow grantmakers to see where funds were being directed, by applicant address or project locations. Future functions would be able overlay other data over maps including population, socioeconomic indicators and remoteness.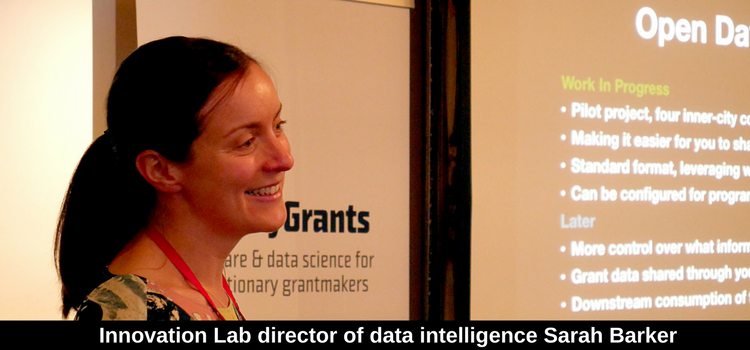 In line with the Our Community motto that insights must be "useful and not just interesting", Ms Barker said "SmartyGrants will continue to make it easier for grantmakers to see where the money is going, compare themselves to similar organisations (for example, by CLASSIE "organisation type" and size) and compare similar programs. This will open up opportunities to collaborate and learn from each other."
Those tools of course will be more effective with more councils making use of the CLASSIE system, using a common "language" across the sector.
City of Glen Eira community development officer Beverley Rayner said after the session that councils had an obligation to make better use of available data.
"I think the risk is that you're not aware of how you're distributing your money with your grants, you're not looking at your strategic direction, and you're not looking at what you have, how you're supporting your local community and how it aligns with that strategic direction."
City of Greater Dandenong community funding team leader Gavin Murphy said that without making use of the data available, organisations risked failing to properly meet the community need.
"While as a grantmaker you may have a gut feeling about where the grants aren't coming from, that's a really hard thing to explain to people - and say you need invest in resources. When you've got the data to back it up then everyone's going to say yes."
The City of Greater Dandenong was in the process of migrating to the SmartyGrants system, and intended to create data sets specific to the needs of Melbourne's southeast.
"We're seeking to collect data that's really relevant to our community and what we want to measure," Mr Murphy said.
Mr Murphy said the uses of that data included being able to locate the source of unsuccessful applications - whether that's by geography or demographics - enabling the council to consider increasing resources to reach out to those communities.
"That's how I see the data being used more than anything. To see where our gaps are, to then spend time and resources to address those needs," he said.
Knox Council community resourcing officer Deb Robert said her organisation was also gearing up to make better use of the system.
"We're certainly very keen to document, to get as much out of our data that we're collecting through grants as possible. And we know there's a lot of really valuable stories to tell in all that grants information."
Ms Roberts had high hopes for how SmartyGrants, and CLASSIE, would be able to help organisations clarify what they were doing with data. She said everyone needs to be clear with their purpose.
"SmartyGrants as a leader in the field is in a good position to have that overview, which can help guide the purposes to which the data can best be put to."
City of Port Phillip grants and community projects officer Trishula Nagarajan said she was quickly learning the significance of the use of data in her relatively short time at the bayside council.
"Data is integral. It's is the new language. All the decisions are made based on data. Council has made a great investment with SmartGrants and it sounds like there's some really interesting developments and I'm excited to see what's to come."
MORE: About the CLASSIE system | The Innovation Lab