Mae Hong image credit: The Photo Pitch
Leading US philanthropist Mae Hong says the world's political turmoil is a wake-up call for funders with the power to push for change.
The vice president of Rockefeller Philanthropy Advisors (RPA) said philanthropists in particular had become the "guardians of good", and faced a battle like no other to hold the line against powerful forces eroding civil society.The vice president of Rockefeller Philanthropy Advisors (RPA) said philanthropists in particular had become the "guardians of good", and faced a battle like no other to hold the line against powerful forces eroding civil society.
But Ms Hong says her stark appraisal - in the wake of Donald Trump's election and the rise of populist authoritarians - should no longer be a shock to those working in the field.
Ms Hong recently visited Australia as a guest of Australian Executor Trustees (AET), which has struck a partnership with RPA to bring its expertise here.
Even as the "poor cousin" of the Rockefeller Foundation, the RPA advises and manages US$250 million a year in giving globally, and has overseen US$3.8 billion in grants globally.
This is why Ms Hong - also past chair of Grantmakers for Effective Organisations (GEO) - puts so much stock in the value of "sense making" in the current environment.
By understanding the current political climate, funders will be able to continue to make the greatest impact for their respective missions, she told an attentive group of philanthropic experts in Melbourne recently.
"I'm trying to put together ... perspectives that will help contribute to sense making that will lead to new insights that can strengthen and improve our change making."
She says grantmakers are among those at the centre of a new battleground, where what's at stake is the future of civil society and the voluntary sector.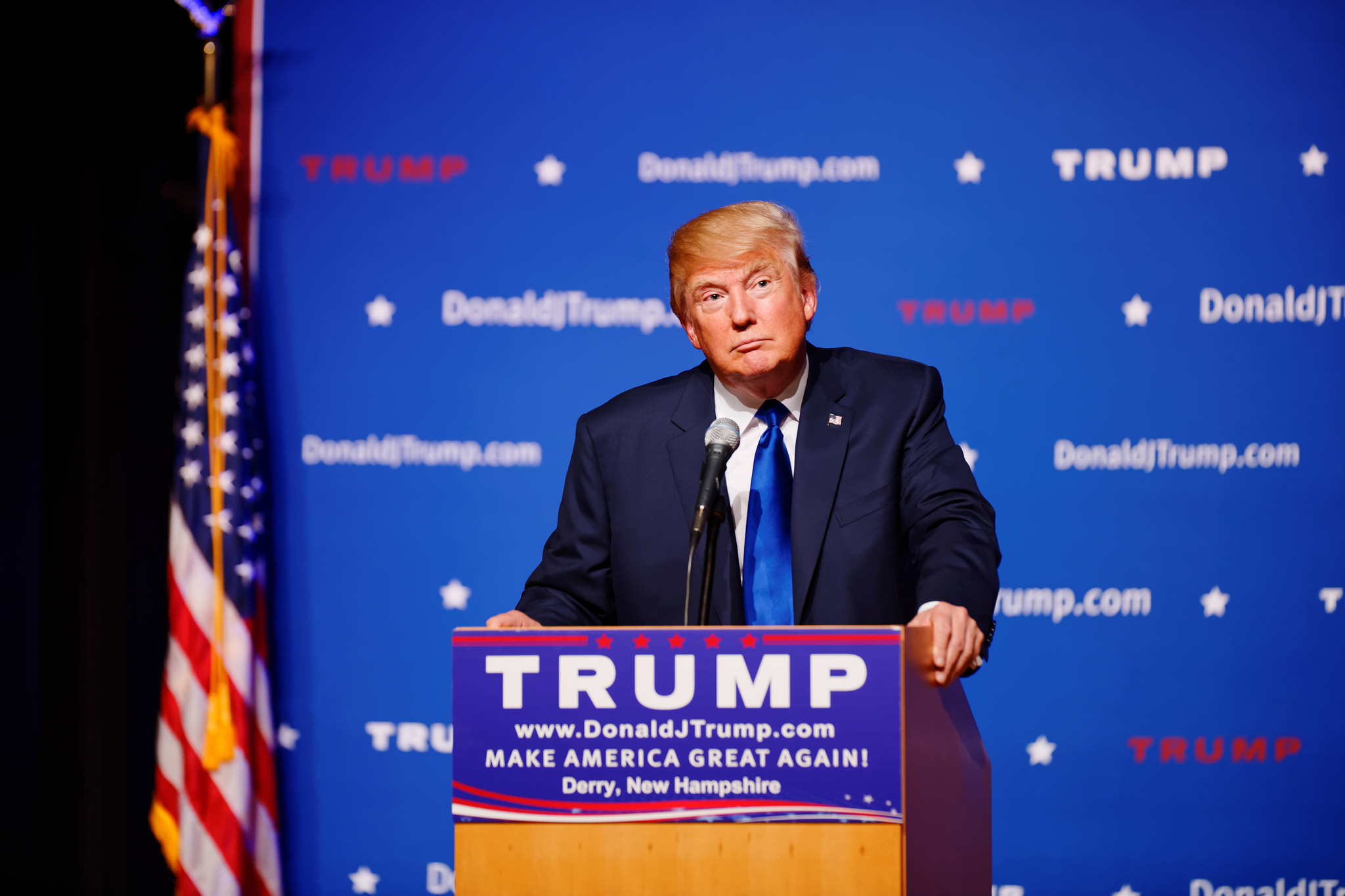 Donald Trump's election is a symptom and result of a power shift over decades says Mae Hong. Picture: Michael Vadon (
CC BY-SA 2.0
)
Ms Hong says Donald Trump's election blindsided progressives who assumed his election couldn't actually happen, but has also electrified those committed to positive social change into action.
She dubbed her commentary American Vertigo: Philanthropy and Democracy in Uncertain Times, in reference to the Hitchcock film and the unsettling medical condition characterised by nausea.
She says it's an appropriate analogy for the state of global affairs, beset by racial protests, environmental calamities, a very real nuclear threat, polarised views, and instability in domestic and global politics.
"There's no sphere of US life that hasn't been touched ... since Donald Trump was elected," she says.
"It's almost as if the 1930s called, and it wants its ideas back."
"Our collective self image has been shattered."
Time and time again, her commentary about the battles raging in sexual politics, climate change, racism and asylum seekers drew parallels with the Australian experience of same-sex marriage, the battle over the Adani coal mine, and the division linked to Australia's continuing asylum-seeker crisis, to name a few examples.
"The biggest surprise was that we were so surprised ... this has been in the making for thirty years," Ms Hong says, citing the recent work of Lewis Lapham, author of Age of Folly: America Abandons Its Democracy.
Lapham's writing since the end of the Cold War has documented the slide of power from democracy into the hands of the super-rich.
That drift from democracy has coincided with the rise of authoritarianism, populism and malcontent, and the resulting political response shown in the Brexit vote, and election results in France, Germany and the US, she says.
data-show-text="false">
Mae Hong

We recently spoke to Mae Hong, Vice-President of Rockefeller Philanthropy Advisors. We asked her "For community activist groups, is winning more important than the way a battle is fought?" Here's what she had to say.

Posted by OurCommunity.com.au on Thursday, October 19, 2017
Those reactions happened even in strong economies, and it's a situation which Ms Hong says has a lot to do with the wealthy in those countries taking more than their fair share, and cutting others out of that prosperity.
Those "plutocrats" with the power and cash are pushing for policies that benefit themselves, such as tax breaks, concessions and favourable laws. She says one of the world's richest men, Warren Buffett, admits he pays a lower tax than all of his employees.
On the other side of the coin, the poor continue to lose influence and power, and face "a rigged system" of negative policies, and less access to goods and services.
What this all means is a "massive seismic shift in the relationship of money and power".
This includes a reversal of the connotations of "public" and "private". For example, in the '50s, public services, public hospitals and public housing were viewed positively, but those views were turned on their head in the '80s economic shakeup, when everyone became enamoured of "private planes, private trainers and private schools".
The reduced tax take from the wealthy and the inability to protect the disadvantaged have weakened governments, who are losing income and legitimacy, she says.
That loop of increasing inequality has been the mark of our times, she says.
And when the richest eight people in the world boast the wealth of 3.6 billion others, it's no wonder Ms Hong fingers inequality as the new global threat.
It's no different in Australia, where the top 1% own the same as the bottom 70% combined, she notes.
"You cannot have chronic underinvestment in the public good, and not expect there to be some consequences," she says.
Those consequences are social, political and economic instability.
"The market is broken, the government cannot do its job; all that is left is civil society and the voluntary sector, where many of you are doing your good work.
"Civil society is now the guardian of the public good, but this is also the new battleground."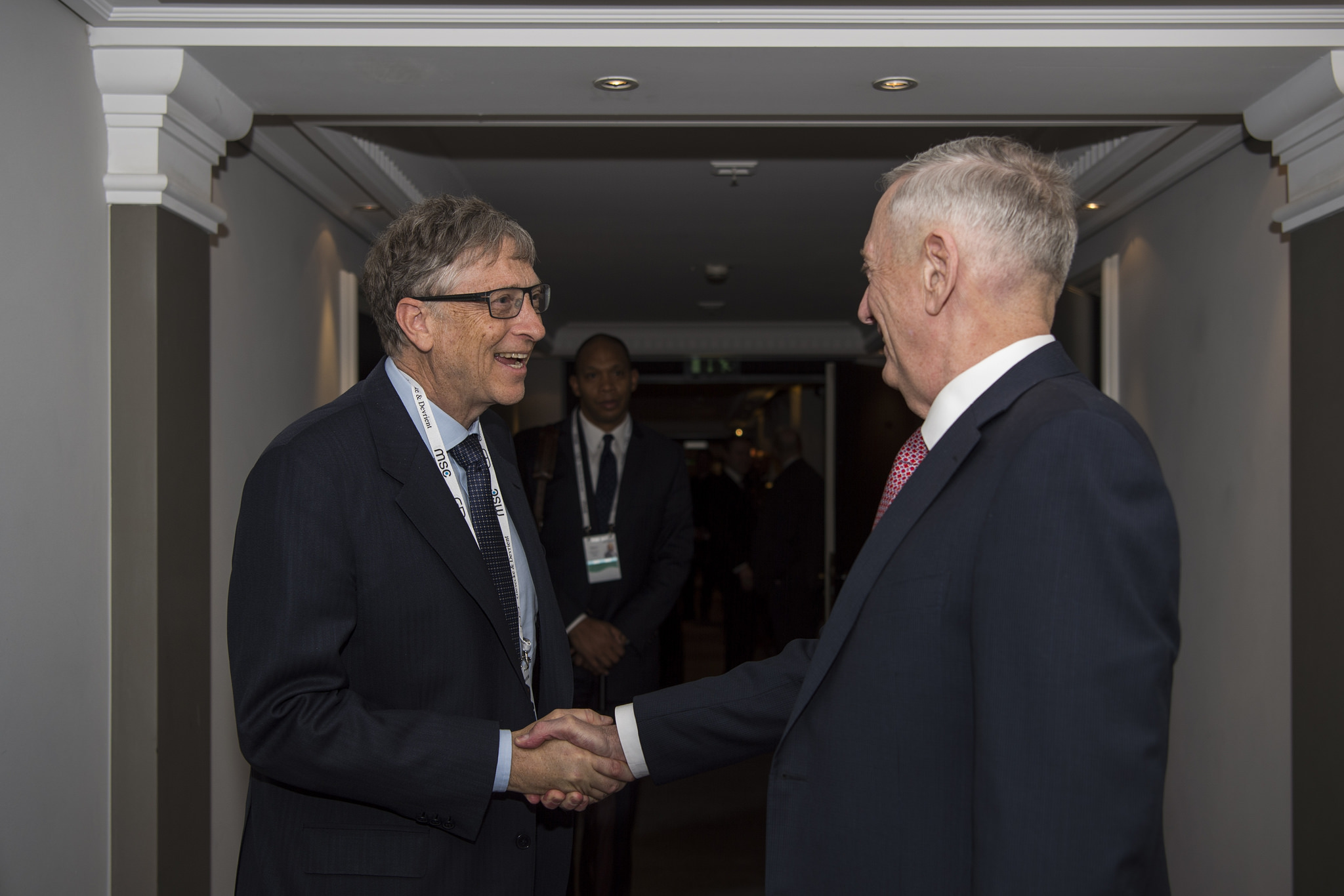 Billionaire philanthropist Bill Gates - pictured meeting US Secretary of Defense Jim Mattis - has given away $US29.5b of his fortune. Picture: US Dept of Defense,
CC licence
.
The new politics of giving
Now the plutocrats have entered the philanthropic fray, with the big end of town "playing the game" in civil society - Bill Gates, Mark Zuckerberg, Bloomberg and the Eli and Edy Broad foundations are pursuing social change agendas that reflect their own views.
New philanthropic giants exercising massive global power are also expected to come from China, India and Russia.
Ms Hong accepts they are doing good for many, "but who elected them"?
"They are using private wealth to set public priorities in education, global aid and scientific research," she says.
"People are deploying all of their resources, combining their charitable giving with their political giving, investing, influence and service ... all in the exercise of shared goals. Can we call all of that philanthropy? That depends on your point of view."
In some cases, large institutions have returned gifts that carry perceptions of being tainted by political agendas, in a world where there are "no neutral platforms".
"Everything is political now, except politics - that's personal," Ms Hong quips.
For those seeking money, it also means asking the question: "What am I saying by accepting that gift?"
Now the battle rages in the US over where philanthropic money is being spent, and people's views on whether the spending is good or not are based on their politics, values and priorities.
Other philanthropists in the audience were swift to draw parallels in Australia, where, for instance, environmental lobby groups face the real prospect of losing their tax-exempt status if they spend their donations on advocacy, rather than on direct action such as planting trees.
But like other realms of society, philanthropy is facing disruption, with crowdfunding, direct donations and other forms of support increasingly democratising philanthropy, or fighting back with "rage giving" against what many see as Trump's most objectionable policies.
Ms Hong estimated US$700 million had been donated in response to Trump's policies, and that there had been an "extraordinary amount of energy to hold the line" by donors involved in health care, housing and the environment.
The shock of the new, and how to cope
Ms Hong described us all living in a "VUCA" world, a one-time military term that refers to:
Volatility
Uncertainty
Complexity
Ambiguity
She gave the example of cashmere sweaters, which once cost hundreds of dollars each and are now sold by Walmart for US$20. The unintended consequences saw the goat herds of Mongolia doubling in size, which led to massive overgrazing ... and sandstorms that covered almost all of Asia.
It's just one example of one economic driver having a big impact elsewhere.
The appropriate response to a complex world is to "build better shock absorbers", by cultivating increased resilience, especially in the civil sector.
And that means it's time for an alternative definition of VUCA:
Vision
Understanding
Clarity
Adaptation
It's also why Ms Hong says philanthropists with a conscience need to step in and protect civil society, and be unafraid of stepping away from a "neutral" position.
That means "paying attention" to others, rather than buying into the "echo chamber" of those who support your own views on social media and elsewhere, and finding ways to support civil society by increasing the "voice, agency and power" of ordinary individuals.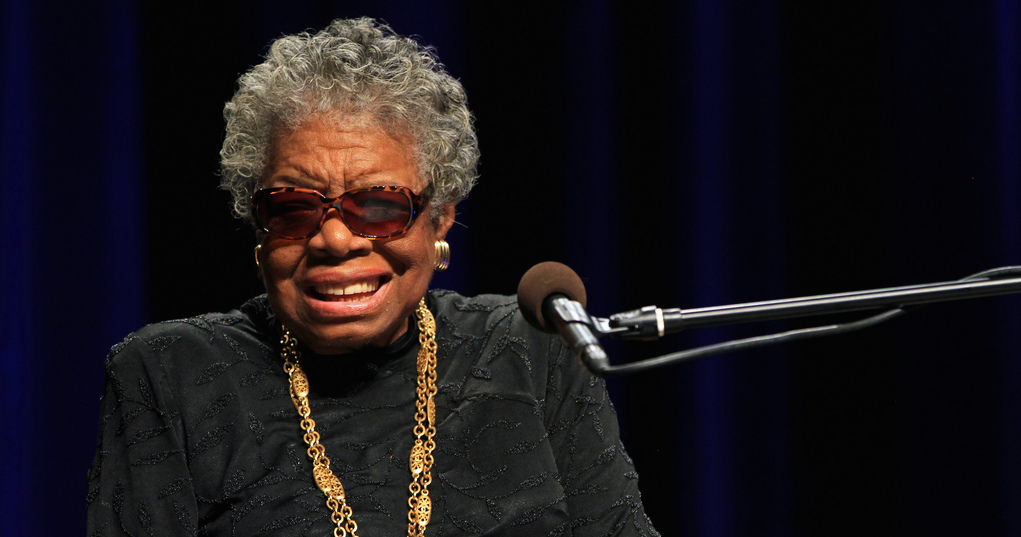 Mae Hong has drawn on the inspiration of activist Maya Angelou to urge changemakers to stick with the spirit of giving. Picture: Reynaldo Leal/Panamericanonline.com/CC licence.
She was confident of the ability of young people in particular to get involved and active, but stressed civil society and NGOs needed to get "close to the front lines" of neighbourhood associations, civic groups, and other places where people could connect.
For philanthropists it also meant getting back to the spirit of philanthropy and the love of humanity, and away from an overemphasis on strategies and programs.
Ms Hong ended by quoting US poet and activist Maya Angelou, who says:
"I have found that among its other benefits, giving liberates the soul of the giver. The giver is as enriched as the recipient, and more important, that intangible but very real psychic force of good in the world is increased ... the gift is upholding the foundation of the universe ... each boon we give strengthens the pillars of the world."
MORE INFO:
AIGM news: Ms Hong urges focus on grantee capacity | Does private cash reveal the future of grants?
Top 10 action plan: Grants in Australia survey grants lessons
Grants that transform' (via Generosity) | RPA's Theory of Foundation (via SSIR)