The Australian Institute of Grants Management (AIGM) Grantmaker of the Year Award
Give me a lever long enough and a place to stand and I will move the earth. - Archimedes, 220 BC
The AIGM's Grantmaker of the Year Award is designed to unearth the people leading the field of grantmaking in Australia, and draw out (and share) their vision for where we should go next.
---
The 2019 AIGM Grantmaker of the Year Award Winner

(Pictured L-R: Rosanna Luca, Jan Nye, Rukmani Balram and Nicole Guyatt)
The NSW Heritage Grants Team, comprising team leader Jan Nye, senior grants officer Nicole Guyatt and grants officers Rukmani Balram and Rosanna Luca, is the 2019 Grantmaker of the Year.
The award was announced at the 2019 Grantmaking in Australia Conference in Melbourne on August 8, 2019.
The NSW Heritage Grants Team, which is part of the NSW Department of Premier and Cabinet, has almost 55 years of funding and grant program management experience between them.
Their inspiring application included ideas for a grantmaker-grantseeker portal, a planning platform for prospective applicants, and practical methods for reforming the way grantees are supported by grants administration teams.
Two runners-up were also awarded in 2019: Jon King, Grants Manager at the Community Broadcasting Foundation, and the CAGES Foundation team comprising executive director Gemma Salteri, executive officer Rachel Kerry, and foundation officer Monique McEwan.
Jon's application showed an impressive knowledge of leading grantmaking practices across the world, and included ideas for more authentic impact assessment and peer assessment of grant applications.
CAGES is a private ancillary fund set up by the Salteri Foundation in 2009 with a mission to shift life outcomes for Indigenous children. The judges were impressed with the CAGES team's sophisticated understanding of the power relationship between grantmakers and grantees, their eagerness to assess and benchmark their own performance, and their fresh take on the notion of 'risk' in grantmaking.
Unlike most awards, the Grantmaker of the Year Awards are designed to reward ideas for pushing the field forward, rather than acknowledging past accomplishments.
Grantmaker of the YearThe Grantmaker of the Year award recognises the superheroes in grantmaking and aims to encourage innovation in the field.
"We want to unearth the grantmakers who are leading the field and to reward innovation," said Our Community executive director Kathy Richardson.
Read more at about the 2019 Grantmaker of the Year.
This year's winning trophy is rightly a superhero, designed by Victorian sculptor Ann-Marie Gentile.
CBF runner up Jon King
CAGES foundation executive Rachel Kerry
---
About the Award
Professional grantmakers make Australia's vast money-giving machine run smoothly.
They know how to identify the challenges and the opportunities, how to work out a mechanism for change, how to ally themselves with the community on the ground, how to fund, support, and guide grant recipients in their task, how to weigh up the outcomes, and how to get the word out about their success or failure.
That's important work. And it deserves recognition.
It's not an easy job, and it's not one that's going to bring you fame and fortune. But Australia needs good grantmakers - smart, skilled, thoughtful and professional.
The Australian Institute of Grants Management wants to unearth the grantmakers who are really thinking about their craft and encourage them to let us in on their ideas.
"Going through the process of applying for the AIGM Grantmaker of the Year Award was a great opportunity to craft the ideas I had about how to improve grantmaking in Australia into practical approaches. Being able to meet and share ideas with other grantmakers at the award announcement has really improved my networks and set in motion some great new partners and expanded my networks."
"Being awarded the AIGM Grantmaker of the Year Award has opened so many doors for me. I have made so many new connections and gained an enormous amount of confidence in the value of my contribution to the grantmaking sector.
The award money has helped me to buy university text books and cover travel costs for my studies at QUT as well as allowing me to undertake a Non Profit Leadership Course in the United States in 2013".
Caitriona Fay - winner of the inaugural AIGM Grantmaker of the Year Award.
---
Why this award?
Each year, Australian governments spend some $15 billion dollars assessing, supplying, and overseeing grantees. Foundations and other grantmakers add another $280 million to the pointy end.
Grants are a key element in the Australian economy. Good grants work by driving innovation, finding solutions to age-old problems, encouraging good practice, empowering the enthusiastic and rewarding the effective. Bad grants are poorly thought out, poorly evaluated, and waste millions.
Good grants don't make themselves. They need good grantmakers.
Bad grants mostly come about through people not listening to the good grantmakers.
We need to give good grantmakers more clout. We want them to have more status. We need professional grantmakers to have a voice that can't be ignored.
The Australian Institute for Grant Management (AIGM), a division of Our Community, is leading the movement seeking greater respect for what grantmakers do. We want to start you thinking. And we want to know what you think.
The Grantmaker of the Year Award is designed to unearth those grantmakers who are leading and pushing forward the field of grantmaking.
We want to identify the people who can lead the way, and reward their innovation.
We want to hear your ideas on how to get professional grantmaking to the next level.
---
The AIGM Grantmaker of the Year Award in past years
---
The 2015 AIGM Grantmaker of the Year Award
Cynthia Scherer and Lesley Lightfoot have topped a high-quality field of entrants to be named joint Australian Institute of Grants Management's (AIGM) 2015 Grantmakers of the Year.
It is the first time in the award's four year history that it has been presented to joint winners. Both winners received their awards at the AIGM Grantmaking in Australia Conference in Melbourne this morning (on March 23).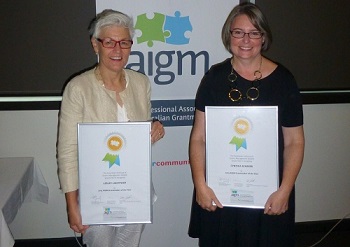 2015 Grantmakers of the Year Cynthia Scherer (right) and Lesley Lightfoot .
Ms Scherer and Ms Lightfoot share the role of Community Impact and Grants Manager at innovative Geelong-based community grantmaker Give Where You Live, an organisation which raises funds and allocates them via three major grants programs which then aim to address both the symptoms of disadvantage around the Geelong region, as well as the fundamental causes.
It is also working with the G21 Geelong Regional Alliance on the Geelong Region Opportunities for Work (GROW) project. GROW is a collective impact-based project which aims to address joblessness in a number of locations around the Geelong region.
In their award-winning submission, the pair shared their insights on how they would like to "wave a magic wand" to loosen shackles limiting grantmakers' impact. These included structural changes to tax status, as well as attitudinal change to grantmakers' and grants program mindsets.
They also highlighted the need for grantmakers to learn to "pivot", and to value risks and failures as part of their journey to success.
Another key idea in their submission was the use concept of Peer Coaching Circles.
"Peer coaching is a confidential process through which two or more professional colleagues work together to reflect on current practices; expand, refine, and build new skills; share ideas; teach one another; conduct research; or solve problems in the workplace," they wrote.
"Circles of 4-5 grantmakers could meet on a monthly basis. Circles could be organised via affinity groups or across the grantmaking sectors. Key to Circle meetings would be information sharing (including recent wins as well as challenges or lessons learned) and the ability to offer issues or topics for feedback.
"Circle members would be asked to make commitments around next steps or things they might try with the agreement to be accountable to their circle at the next meeting."
Ms Scherer and Ms Lightfoot had previously been highly commended for their 2014 Grantmaker of the Year Award entry. They received their award from AIGM Director Fiona Dempster and 2014 AIGM Grantmaker of the Year Carley Commens.
Read more about their work and their entry here.
---
2015 Grantmaker of the Year Award Report
Each year the Grantmaker of the Year Award throws up new ideas and new thought processes.
And each year we gather these ideas, key findings and conclusions and collect them into one report.
The 2015 AIGM Grantmaker of the Year Report contains more information on our winners, on Give Where You Live's work and some of the key ideas Lesley and Cynthia shared, including:
The call to loosen the shackles grantakers experience in order to help them increase their impact;
The use of peer coaching and the sharing of ideas as a way to increase professionalism in the sector;
Giving grant recipeints greater power through knowledge;
Thoughts on how to break down sector boundaries.
---
2014 Award Winner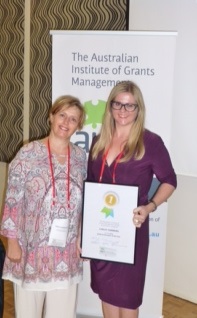 2014 Grantmaker of the Year Carley Commens (right) is pictured with AIGM Executive Director Kate Caldecott.
Congratulations to Brisbane City Council's Carley Commens, the winner of the AIGM's 2014 Grantmaker of the Year Award.
Carley was announced as the latest award winner at February's Grantmaking in Australia Conference, and was chosen from a high quality field of entrants.
Carley currently works at Brisbane City Council in its Creative Communities team. She is a graduate of the University of Southern Queensland, where she completed a Bachelor of Theatre Arts. She served as Coordinator for Queensland Arts Council's Creative incommunities initiative and went on to manage the Regional Arts Fund for Queensland.
She has previously managed a number of arts grants funds and worked in the small to medium arts sector for several years.
Carley coordinated JUMP, the Australia Council for the Arts national mentoring program for young and emerging artists and worked with Youth Arts Queensland, and is also an active blogger and social media user.
Her entry for the Grantmaker of the Year Award put forward a number of great ideas, as well as some interesting perspectives on some of the challenges facing grantmaking. The Grantmaker of the Year Award does not seek to reward past works; rather, it calls for entrants to draw on their experience in grantmaking to offer ideas for taking the field of grantmaking forward.
Among the challenges Carley discussed in her application was the need to address the issues relating to "unfunded applications waste". She suggested that grantmakers should develop a short evaluation tool for inclusion in the grants application process that would increase the value of the process for applicants, as well as help grants assessors better evaluate and assess applications as they come in."
Carley received her award, including a $5000 cash prize, from AIGM executive director Kate Caldecott and 2013 Award winner Lara Hook.
---
2014 Highly commended
The quality of entries for the 2014 AIGM Grantmaker of the Year Award was the best in the award's history. Judges decided to recognise a number of Carley's fellow entrants for their efforts by awarding them with highly commended honours.
The grantmakers to be highly commended were:
Lesley Lightfoot and Cynthia Scherer from the Give Where You Live Community Foundation in Geelong, Victoria.
Adama Kamara from Auburn City Council in New South Wales.
Jonathan Srikanthan from the Qantas Foundation.
Susy Jones and Marguerite Jones-Roberts (and Jen McKinley) from Accuteque and the Department of Human Services in Victoria.
---
2014 Grantmaker of the Year Award Report and Key Ideas Summary
The ideas, key findings and conclusions emanating from the 2014 Grantmaker of the Year Award have been collected into one report.
In addition, we've compiled a quick summary of the of key ideas raised by Award finalists. This is a great way to get a feel for some of the suggestions our finalists had for improving grantmaking in Australia.
---
2013 Award Winner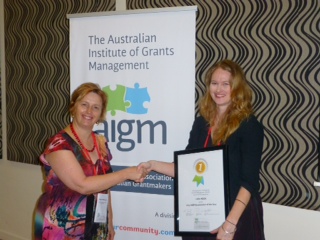 2013 Grantmaker of the Year Lara Hook (right) is pictured with AIGM Executive Director Kate Caldecott.
The 2013 AIGM Grantmaker of the Year Award winner was Lara Hook.
At the time of receiving the award, Lara was Program Manager at the RE Ross Trust.
The RE Ross Trust is a perpetual charitable trust established in 1970 in Victoria by the will of the late Roy Everard Ross. Since its inception, the Ross Trust has distributed over 90 million dollars in grants for charitable purposes in Victoria.
Lara has previously worked in a number of organisations in the non-for-profit sphere, including project management roles both nationally and internationally.
She has particular experience with developing communications, advocacy strategies and projects in capacity building, workers's rights and safety, human rights and media development for journalists and their organisations in the Asia Pacific region.
Lara's application presented a great range of ideas for addressing some long-standing issues to do with grantmaking, as well as how fostering more opportunities for practical and ongoing collaboration can break down boundaries between different grantmaking sectors.
It also included ideas on how to ensure increase and promote professionalism in the sector, including a useful list of what she felt were essential and desired skills for a grantmaking professional.
Lara received the award at the AIGM's Grantmaking in Australia conference in Melbourne on March 15, 2013.
Download the 2013 Award Report by Clicking Here, or on the image to the left.
---
2012 Award Winner
The winner of the inaugural AIGM Grantmaker of the Year Award was Caitriona Fay.
Caitriona's experience in grantmaking has straddled both the government and philanthropic worlds, beginning at Scotland's Heritage Lottery Fund, a "good causes" distributor of lottery profits in the UK, in 2002.
When she received the 2012 award, Caitiona was Senior Program Manager at the Ian Potter Foundation, where her roles include the assessment of grants and leadership of the foundation's grantmaking strategy development. Since then, she has taken over the role of Philanthropy Services Manager at Perpetual Limited
She's also a co-contributor and co-founder of the www.3eggphilanthropy.com blog, which aims to encourage grants staff to discuss issues in philanthropy.
2012 Highly commended
A number of 2012 entries were highly commended:
Nina Collins and Denise Fox (YarraGrants)
Jon King (Community Broadcasting Foundation)
Benjamin Jardine (local government grantmaker); and
Sharon Nathani and Genevieve Timmons (Inner North Community Foundation)
Download the 2012 Award Report by Clicking Here (PDF, 5mb), or read the report by clicking the box below.

---
NEED MORE INFO?
Email us: service@grantsmanagement.com.au.
Call us on (03) 9320 6888.